The Ancient Law (Das Alte Gesetz)
The Ancient Law (Das Alte Gesetz) a cine-concert:  a screening of the foundational 1923 silent film, with a live  original score by Alicia and pianist/composer and silent film music legend Donald Sosin.   The project is available on DVD from Flicker Alley.
Photo credit: Futography LLC
THE ANCIENT LAW is a landmark in Weimar cinema and an outstanding example of the creative contribution of Jewish filmmakers in 1920s Germany.  It is the story of a rabbi's son who leaves his shtetl home in Galicia and makes his way to Vienna, where an archduchess at the imperial court falls in love with him. . The movie draws a complex portrait of the tension between tradition and modernity. 
The discovery of the censor's certificate with the text of the original intertitles was the impetus for this new restoration of THE ANCIENT LAW, available through Flicker Alley films.  
Read a preview article here: https://atlantajewishtimes.timesofisrael.com/music-modernizes-silent-film-at-the-ajff/
View sample trailer here:  https://vimeo.com/335146764/fa846b073c
From New York Music Daily, 3/9/20:
Svigals is fresh off an absolutely delightful show late last month, when she teamed up with a frequent collaborator, pianist Donald Sosin for a live score to E.A. Dupont's 1923 German silent film The Ancient Law at Temple Ansche Chesed on the Upper West. 
Beyond the movie – which is very sweet, and progressive even by the Weimar era's avant garde standards – what was most impressive was what a fantastic classical violinist Svigals is. Following the film's narrative, the music begins in a little village somewhere in the Pale (Sosins starts out on accordion, appropriately), then suddenly shifts to cosmopolitan mid-19th century Vienna. That's where the plaintive dirges and bristling freylachs suddenly make way for melancholy Schubert ballads, lively Mozart and, for verisimilitude, a few detours into Johann Strauss...
It was there that the split-second change in Svigals' intonation and attack was most striking. All of a sudden those bracing overtones, and double-stops, and glissandos disappeared in favor of a crystalline, legato approach…and then made a welcome return when the plotline shifted back to the ghetto. Those old Jewish folk tunes have survived for a reason: they're just plain gorgeous. Beyond the action on-screen, the moments when the duo were obviously jamming out solos over familiar minor-key changes were arguably the evening's most adrenalizing, entertaining passages. ..
Svigals and Sosin have been touring their live movie score along with a screening shortly after the film was rescued from oblivion, digitized and sequenced to match the original print during what must have been a daunting restoration process. Without giving too much away, the main story concerns a rabbi's son who runs off to the big city to become an actor. Tensions between father and son, tradition and modernity simmer and bubble, but the movie is basically a comedy: the moment where the rabbi finally picks up the forbidden volume of Shakespeare that the film's Falstaff character has smuggled in is priceless...
 More quotes:
  "We were mesmerized! The music—the klezmer violin and piano score—magnified the story line and captured our hearts. It was really a wonderful 2+ hour experience."
Peter Benoliel, former president, Philadelphia Orchestra and board member at Marlboro Music Festival 
"What an amazing evening! I was absolutely blown away by the film and the music, and I am so appreciative of everyone's efforts in bringing The Ancient Law to Montreal. What a gift to bring this story back to life for a very appreciative audience. From the bottom of my heart, thank you."
Rabbi Lisa Grushcow, Temple Emanu-El Beth Sholom, Montreal  
"To speak to today's audiences, what The Ancient Law needed was an intelligent, well-executed film score to carry viewers across the multiple social settings and characterizations, rife with internal conflict. An ideal team has done just that. Alicia Svigals, whose work on another silent film, The Yellow Ticket, was widely praised on her multi-city tours, combined with Donald Sosin, a titan of early-cinema scoring, to produce an unusually supple, accurate, thoughtful, and moving score. I saw it live at Lincoln Center and then on video, which only intensified my admiration for the soundtracks' craft, accuracy, and emotional charge. To date, the Svigals-Sosin duo have performed it live some fifty-five times, to universal acclaim." 
Dr. Mark Slobin, Professor Emeritus of Music, Wesleyan University
Donald Sosin (pianist and composer)  has performed his silent film music at Lincoln Center, MoMA, the Kennedy Center, and major film festivals in the US and abroad. He records for Criterion, Kino, Milestone and TCM. He has played his scores for Jewish-themed silent films at the New York Jewish Film Festival. His one-act opera for families, Esther, was performed at the National Yiddish Book Center. Other Jewish music includes a short children's opera, A Parakeet Named Dreidel, Yiddish folk song arrangements, and Three Psalms, premiered in 2009 by the Jerusalem Symphony Orchestra.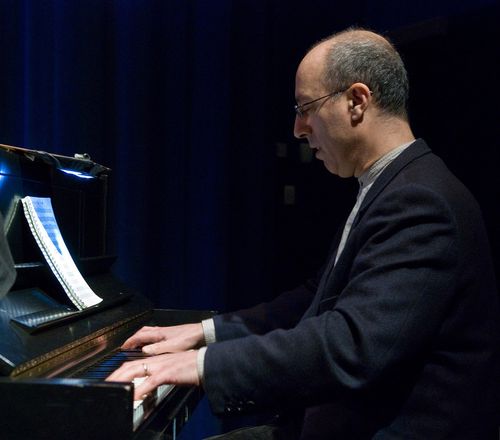 PAST SHOWS
· New York Jewish Film Festival at Lincoln Center 
· The Michigan Theater, Ann Arbor, MI 
· American Film Institute, Silver Springs, MD 
· DCJCC Music and Film Festival at AFI Silver 
· Center for Moving Image Arts, Bard College, Annandale-on-Hudson, NY 
· Schwartz/Reisman Centre, Toronto 
· Forest Hills Public Library 
· Kew Gardens Public Library 
· Dartmouth College 
· University of Kentucky, Worsham Cinema, Lexington, KY 
· Swarthmore College, PA 
· New York Klezmer Series, NYC 
· Westchester Jewish Film Festival, Jacob Burns Film Center, Pleasantville, NY 
· Denver Silent Film Festival 
· National Museum of American Jewish History, Philadelphia 
· Chicago Music Box Theater 
· Cleveland Museum of Art 
· Yale University 
· Cornell Cinema, Cornell University 
· San Francisco Silent Film Festival 
· San Diego Jewish Film Festival 
· Atlanta Jewish Film Festival 
· Le Giornate del Cinema Muto/Pordenone Silent Film Festival, Italy 
· Houston Cinema Arts Festival 
· Chicago Music Box Theater 
· Cleveland Institute of Art 
· National Museum of American Jewish History, Philadelphia 
· Miami Jewish Film Festival 
· Cinema Arts Centre, Huntington NY 
· Orpheum Theater, Fairfield, IA 
· Boston Jewish Film Festival 
· Tompkins Corners Cultural Center, Putnam Valley, NY 
· Yidish Vokh, Eisenberg Camp, Copake NY 
· Oberlin College 
· Manhattan JCC, NYC 
· JCC in Sherman (CT) 
· Bard SummerScape, Bard College, Annandale-on Hudson, NY 
· Art Kino, Rijeka, Croatia 
· Slovenia Festival of Tolerance, Mini Teater, Ljubljana 
· Slovenia Festival of Tolerance, Jewish Museum, Maribor 
· Slovenia Festival of Tolerance, Civic Auditorium, Kamnik 
· Slovenska Kinoteka, Ljubljana, Slovenia 
· Temple Emanu-El Beth Sholom, Montreal 
· Temple Emanu-El, Providence, RI 
· Metro Theater, Vienna, Austria 
· Istanbul Silent Film Festival 
· Camp Isabella Freedman, Falls Village CT 
· U. of Cincinatti 
· Illinois Holocaust Museum, Skokie 
· A4 Cafe, Bratislava, Slovakia 
· Istanbul Silent Film Festival 
- YIddishkayt Festival at Theater for the New City, NYC 
UPCOMING
- Ansche Chesed Synagogue 
- Ashland OR independent film festival 
· Paramount Theater Seattle 
· Conference on World Affairs, University of CO Boulder 
· Pioneer Valley film festival (Amherst, MA) 
· Hobart and William Smith College 
· Kenyon College 
· Ashokan Cultural Center 
· and more bookings in progress...